Loto Santiago App
The developers at Loto Santiago are working hard to create a mobile app that will make checking the results and buying tickets on the go easier than ever before. You will also have access to other great features, including an automatic ticket checker and much more. The app will be made available on both iOS and Android devices as soon as its ready. Below are some of the great features it will have for you: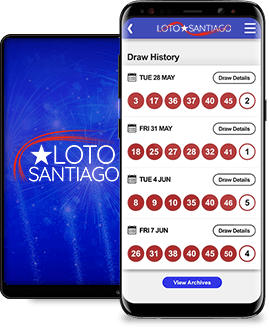 Results – Loto Santiago results take place twice a week on Wednesday and Saturday nights, and the app will update with the winning numbers as soon as the draw has taken place. You can also set alerts and notifications to tell you when the latest results are available.
Buy Tickets – the app will make it easier than ever to enter a draw, making sure that being out of the house is no excuse to miss the ticket deadline.
Check Your Numbers – you will be able to check your numbers on the go and immediately following the announcement of the winning numbers. It will also store your numbers, making your ticket checks quicker than ever before.
Ticket Generator - don't like choosing your numbers on your own? Then use our generator which will randomly create a set of numbers for you – use it as many times as you wish.
Notifications – be the first to hear when the results are announced or whether a special draw is taking place by allowing push notifications on your device.
Past Results – check the results from all the draws in the past in the extensive Loto Santiago results archive.